Alive Inside: A Story of Music and Memory

NR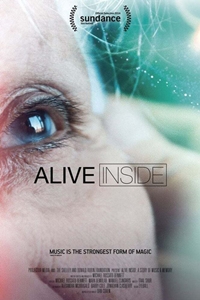 Playing at highlighted locations:
Arlington Theatre
Big Wood 4
Calexico 10
Camino Real Cinemas
Fairview Theatre
Fiesta 5
Holiday Village 4
Isis
Metro 4
MetroLux 14
Park Twin
Paseo Nuevo Cinemas
Redstone 8
Riviera Theatre
Village 8
Wildhorse 6
Five million Americans suffer from Alzheimer's disease and dementia -- many of them alone in nursing homes. A man with a simple idea discovers that songs embedded deep in memory can ease pain and awaken these fading minds. Joy and life are resuscitated, and our cultural fears over aging are confronted.
Details
Documentary
1 hr. 14 min.
Opens August 27th, 2014

Director
Michael Rossato-Bennett
Writer
Michael Rossato-Bennett
George Str